The Book Club of California is offering in-person and online programs and activities. Hybrid events with in-person attendance and a streaming element are also held.
In-person programs without a virtual component may be recorded for online viewing on our YouTube Channel after the event.
Unless otherwise noted, all events are free and open to the public and take place at the Book Club of California located at 312 Sutter Street, Suite 500 in San Francisco.
Please refer to the description under each event.
Email programs@bccbooks.org for any questions, or call (415) 781-7532 ext. 2. Many of our staff will be working remotely so please contact them by email or phone. Staff contact information can be found on our website.
________________________________________________
We are All in it Together: Power of the Press

Monday, October 2, 2023, 6-7:15 PM (Pacific)
| In-Person and Virtual Presentation
5:30 PM Pacific – Reception
6:00 PM Pacific – Program
The saying goes, "Freedom of the press is guaranteed only to those who own one" but what if the community's words could be printed and freely shared…. Thea Sizemore of Kavamore Press is doing just that.
Join us for an uplifting talk with Thea Sizemore about a social print project that is geared toward elevating the voices of the community. The project began early in the pandemic, providing an immediate and meaningful social justice service for the general public though protest poster production and distribution. A neighbor gifted a defunct newspaper box which was then up-cycled for the project and "Fresh Prints" Box was born. What happened after that is the beauty of human nature…. connection at a distance, community growth through the power of the press.
Using traditional equipment from the 1900s, hand set type and ink on paper, Sizemore has been able to build a new kinda of "social media" that is tethered to the rich history of the printing press. Sizemore will show examples of posters, discuss working methods and most importantly share how interactions with strangers brought light to a dark pandemic period and started a long term art practice.
An in-person and virtual presentation by Thea Sizemore, letterpress printer, artist and instructor
---
Click here to REGISTER to attend in-person at The Book Club of California
Neon: A Light History

Wednesday, October 11, 2023, 6-7:15 PM (Pacific)
| In-Person Presentation
5:30 PM Pacific – Reception
6:00 PM Pacific – Program
The Blinn House | 160 N Oakland Avenue | Pasadena, California 91101
Is it possible that (once again) everything we know is wrong? Well, in regards to the history of neon, this may well be the case. Dydia DeLyser and Paul Greenstein have penned a brief, but concise history of the neon sign beginning at the beginning, and covering scandals, murder, fascists, and forgotten inventors. A full-color, lavishly illustrated electrical bodice ripper, aficionados of neon will find this an indispensable "bible" to the history of their favorite collision of art and commerce.
Revealing neon signs as active agents in sweeping cultural, economic, and political changes nationwide, DeLyser and Greenstein introduce readers to a compelling cast of characters, many of whom, they show, continue to keep neon vibrant today. Taking readers inside the signs themselves, the authors show how each sign, whether historic or contemporary, is made by skilled hands—today just as they were over one hundred years ago.
Drawing from over a decade of in-depth archival and ethnographic research as well as more than four decades of experience in the sign industry, DeLyser and Greenstein use Los Angeles—not New York or Las Vegas—as focal point, showing how neon signs have catalyzed urban change, and how they continue to hold appeal for our changing communities—developing with the automobile and car-and-consumer culture in the twentieth century, expanding from cities to towns, and along highways to remote roadside outposts. From the earliest luminous tubing in the 1890s to the artistic creations of today, from community-funded restorations of historic signs to ordinary-seeming business signs that have become community icons, DeLyser and Greenstein show how, just as neon signs lit our past, they can now light our shared future.
An in-person presentation by Dydia DeLyser, author and Associate Professor of Geography at California State University, Fullerton, and Paul Greenstein, author and neon light professional
---
Click here to REGISTER to attend in-person at Pasadena Heritage | The Blind House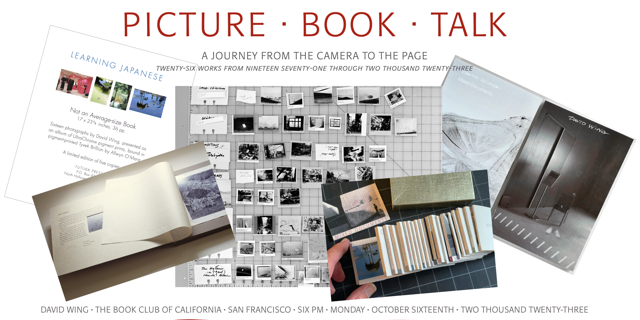 PICTURE • BOOK • TALK

Monday, October 16, 2023, 6-7:15 PM (Pacific)
| In-Person and Virtual Presentation
5:30 PM Pacific – Reception
6:00 PM Pacific – Program
As a photographer in the fifty-seventh year of his serious effort, David Wing will describe how his camera found its subjects, what his working mind is like today, and how his accumulated work has "aged" in his intellect and in his heart.
Accompanied by a large number of slides, Wing will talk in detail about how his pictures come to light, and how his many recent books came to be.
Wing's talk will try to show how his editing seems to work – he notes retrospective relationships among his photographs, and as these become more apparent, they seem to find independent coherence. As this happens, sequences, exhibitions, and the monographs take shape.
An in-person and virtual presentation by David Wing, photographer and teacher
---
Click here to REGISTER to attend in-person at The Book Club of California
We Are the Land: A History of Native California

Wednesday, October 18, 2023, 6-7:15 PM (Pacific)
| In-Person and Virtual Presentation
5:30 PM Pacific – Reception
6:00 PM Pacific – Program
Before there was such a thing as "California," there were the People and the Land. Manifest Destiny, the Gold Rush, and settler colonial society drew maps, displaced Indigenous People, and reshaped the land, but they did not make California. Rather, the lives and legacies of the people native to the land shaped the creation of California. We Are the Land is the first and most comprehensive text of its kind, centering the long history of California around the lives and legacies of the Indigenous people who shaped it. Beginning with the ethnogenesis of California Indians, We Are the Land recounts the centrality of the Native presence from before European colonization through statehood—paying particularly close attention to the persistence and activism of California Indians in the late twentieth and early twenty-first centuries. The book deftly contextualizes the first encounters with Europeans, Spanish missions, Mexican secularization, the devastation of the Gold Rush and statehood, genocide, efforts to reclaim land, and the organization and activism for sovereignty that built today's casino economy. A text designed to fill the glaring need for an accessible overview of California Indian history, We Are the Land will be a core resource in a variety of classroom settings, as well as for casual readers and policymakers interested in a history that centers the native experience.
An in-person and virtual presentation by William J. Bauer Jr., enrolled citizen of the Round Valley Indian Tribes, author, and Professor of History at the University of Nevada, Las Vegas
* Co-presented and co-hosted by LITQUAKE
---
Click here to REGISTER to attend in-person at The Book Club of California
The Deserts of California, a California Field Atlas

Monday, October 23, 2023, 6-7:15 PM (Pacific)
| In-Person and Virtual Presentation
5:30 PM Pacific – Reception
6:00 PM Pacific – Program
With climate breakdown heating up and desertification looming over the horizon, Obi Kaufmann leads curious adventurers on a voyage into the sage-and-ocher landscapes of the American West's world-famous desert regions this fall in his revelatory and sumptuously illustrated new volume The Deserts of California: A California Field Atlas. As philosophical as it is geophysical, this journey blends science and art in Kaufmann's signature style to throw into relief ecological insights greater than either might yield alone. Through expressionistic mapmaking, wildlife renderings, and geographic conservation guides, Kaufmann explores the marvels of and threats to these resilient yet sensitive ecosystems.
"The Deserts of California presumes that hope, like healing, relies on time," writes Kaufmann. "If there is time, there is hope. Although every desert habitat type is threatened, very little of it is yet extinct. Despite the complexity of the threat, everywhere there is precedent for resurgence."
Of a piece with his best-selling books The Forests of California (2020) and The Coasts of California (2022), The Deserts of California (October 2023) rounds out Kaufmann's expansive California Lands Trilogy. Individually and collectively, these volumes set out to transform entrenched colonialist attitudes toward the American West, and transform our concept of nature from a resource for extraction to a shared and cherished inheritance.
An in-person and virtual presentation by Obi Kaufmann, author, illustrator, and naturalist
---
Click here to REGISTER to attend in-person at The Book Club of California
The Poison Book Project: Arsenic & Other Heavy Metals in 19th-C. Bookbinding

Monday, October 30, 2023, 5-6:15 PM (Pacific)
| Virtual Presentation
5:00 PM Pacific – Progran
The Poison Book Project investigates potentially toxic pigments used in the manufacture of Victorian-era bookcloth. Lead scientist Dr. Rosie Grayburn will situate the use of English bookcloth colored with highly poisonous emerald green pigment and other toxic pigments within a broader historical context; recommend safe handling and storage practices for emerald green bookbindings; and report on the Poison Book Project's most recent findings.
A virtual presentation by Dr. Rosie Grayburn, Head of the Scientific Research and Analysis lab at Winterthur Museum, Garden and Library and founding co-chair of the Bibliotoxicology Working Group
---
________________________________________________
Please check back for updates or subscribe to our newsletter to receive the latest information on events, exhibitions, and publications.